Their bags are packed. Their race provisions deposited at the three checkpoints along the route. All they can do  now is set off for the adventure. Check out Ausilia's blog as well as Sebastiano's blog for all the updates of her extrordinary trek across Alaska and the Iditabike Challenge. Also have a look at the official website and leave your message of encouragement. Thanks Ausi and Sebastiano for your determination and grinta!!
by Biancaneve
Ormai ci siamo.. la Grande Avventura sta per iniziare..
..il mio grande sogno, sognato, inseguito,che mi ha guidato lungo le strade percorse dalla mia bici e che mi ha buttato fuori da un letto caldo nelle domeniche d'inverno degli ultimi tre anni, che mi ha sostenuta nei pesanti allenamenti degli ultimi mesi, che mi fa così paura da togliermi il sonno la notte sta per realizzarsi…..
Ma se questo Dono mi è concesso devo dire Grazie…un grazie sconfinato e che viene dal profondo  del cuore a chi in questo sogno ha creduto con me, appoggiandomi, sostenendomi e fornendomi i mezzi per viverlo…..
How's that for a cold frame? This is the same headbadge which was designed by Jeroen Vandenbrand from the Netherlands. It is based on my original DC logo and I still use this design today. He's a great friend from The Netherlands and you can find him and his racing team at Dirty-Pages.net or on my links page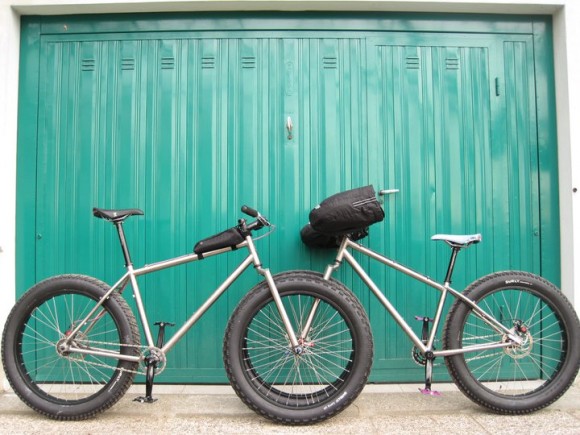 Grazie a :
Wild Track, Maddalena Zorzoli, agli amici di Micky Bike, alla palestra Athletic Studio di Guido e Barbara,al centro di Medicina sportiva della Fondazione Maugeri di Pavia,al Professor Pierluigi Pompei, al gruppo GS Flores di Ferrera, al gruppo "Correre è salute" di Lomello…
Grazie a tutti gli amici e le amiche che mi stanno inviando incoraggiamenti e buona energia attraverso Facebook….
Grazie a Franca che verrà con me …
Voi tutti avete creduto con me in questo grande sogno…..appongiando una persona così fragile e debole, che però ,con ogni sua forza ,si impegnerà a mettere un piede davanti all'altro , metro dopo metro, per cercare di raggiungere il traguardo…..
Infine, ma non certo per importanza, grazie a Seba…senza la sua esperienza ,i suoi consigli e il suo supporto, non avrei potuto avere il privilegio di viverla con lui la mia Iditarod